What is changing?
From May 2018 new legislation will come into force that halves the MOT smoke test limit for all Euro 6 and most Euro 5 diesel vehicles. The government's aim is to crack down on vehicles where the DPF is failing, or has been removed altogether, in order to improve air quality.
Why is it changing?
Environmental campaign groups have been particularly active over the past few months highlighting how EU air pollution limits in various UK cities are being regularly breached. The largest contributor to the air pollution in these "hot spots" is nitrogen dioxide (NO2) and particular matter emitted by diesel vehicles. Despite the attempt by various campaign groups to brandish all diesel vehicles as dirty and unfit for our roads, independent research shows that modern diesel vehicles with fully functioning emission control systems emit very low levels of NO2 and particulate matter.
BBC news published an article that included analysis from private research company Emissions Analytics. The chief executive was quoted in the article saying "Modern diesels essentially do not have a particulates problem". "The filters clean up 99% of the particles. So long as they are not tampered with, they are very effective"[1]
The Government has responded to the publicity by promising to tackle high air pollution through a number of measures, including stricter emission tests on diesel vehicles. The DVSA have reported that since 2014, 1,800 vehicles have been caught with the DPF removed, though experts estimate the number that have gone un-detected is close to 10,000. The stricter test is designed to catch vehicles where the DPF core has been surreptitiously eliminated from the exhaust system. Vehicles where the DPF is still in place but is ineffective will also fail the new tests.
How can I help prevent failing the new emissions test?
These new measures make it ever more important for the DPF to be cleaned as part of a regular service schedule on diesel vehicles, to ensure that the DPF is maintained in full working order. SCM Turbo recommend that diesel vehicles have their DPF removed to be professionally cleaned at every annual or bi-annual service. This is particularly important for vehicles that are used largely in built-up areas, and with limited motorway usage. Even when a vehicle performs a DPF regeneration in situ, ash is left behind in the DPF after the excess soot has been burned off. A professional clean is the only way to fully remove the ash and soot from the DPF.
What is "DPF Flash Clean" technology?
SCM Turbo's DPF Flash Clean technology is a highly effective method of DPF cleaning which restores the DPF flow rate up to 98% of the original new condition. A particular advantage of the Flash Clean technology is that the DPF back-pressure is measured before and after the clean, providing a certified result of the clean. DPF cleans ordered in the morning can be collected the same day (UK Mainland) and will be received by SCM the next morning. The DPF will then be inspected, cleaned and re-despatched for next-day delivery.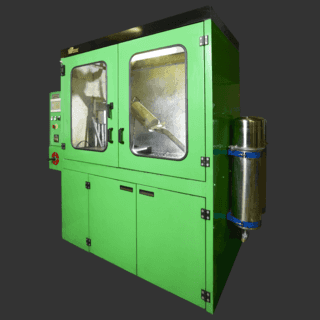 Arrange a DPF clean collection
If you have an account with SCM Turbo, click "Arrange" below to arrange collection of a DPF for cleaning.
If you qualify for an account with SCM Turbo (factors & parts distributors) but do not yet have one, please Contact Us using the subject "Request for an account".
If you are not factor or parts distributor, you may still have your DPF cleaned by SCM Turbo. We will refer you through your closest SCM distributor. Please Contact Us with the subject "Request for DPF clean" and include your postcode
[1] Interview from BBC News article, "Air pollution: Are diesel cars always the biggest health hazard?", published 21st January, 2018