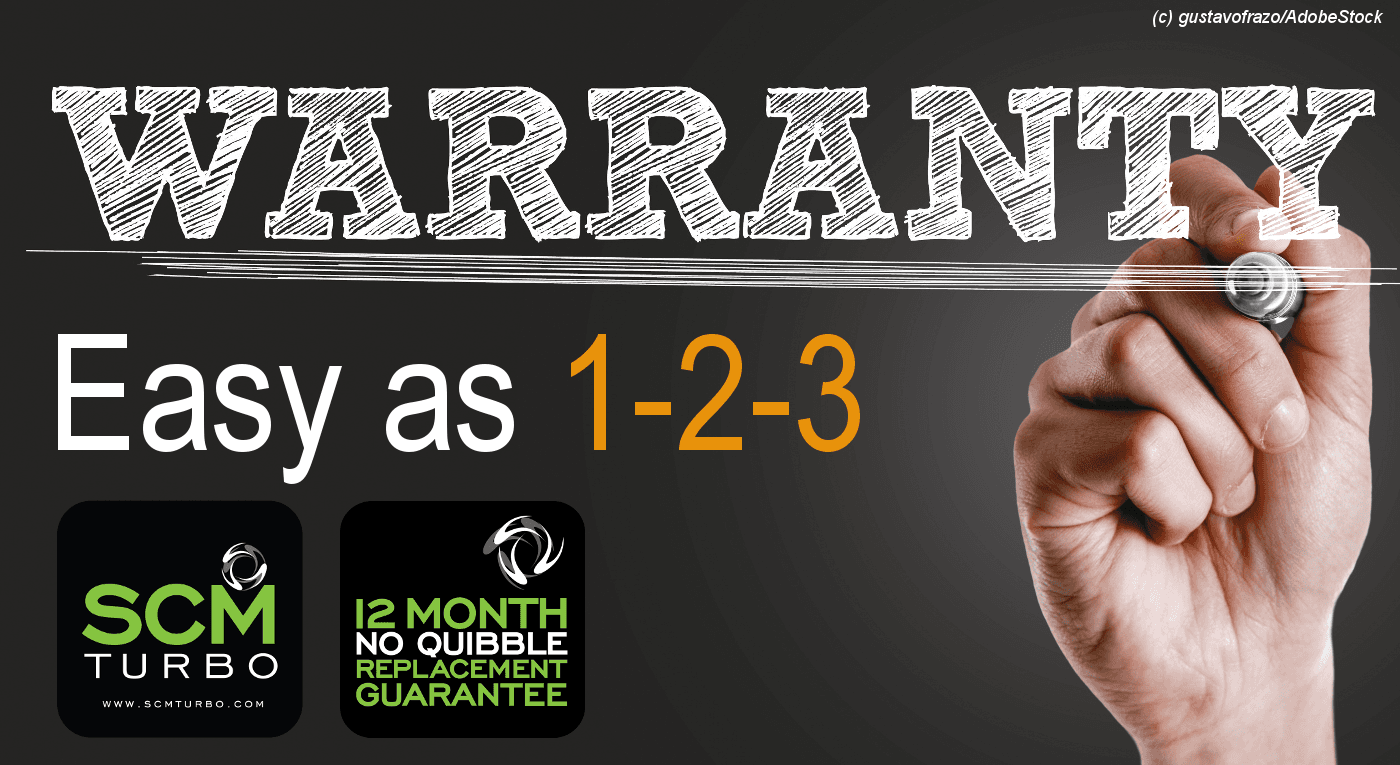 The sale of turbochargers is an important revenue stream for a motor factor. However, a rejected warranty for a failed turbo can lead to a dispute between the customer and the factor - and in turn the factor to the supplier - about the cause of the turbo's failure. SCM turbo has introduced a No Quibble replacement guarantee to avoid this dispute and to protect the ongoing trading relationship between the factor and the installer.
More than 95% of turbo failures are a consequence of an upstream or downstream engine issue; oil starvation, oil contamination and foreign object damage being the key problems. Those facts, however, don't help a factor that has a customer on the phone, adamant that a turbo is faulty and demanding that a replacement turbo is provided under warranty. In these situations SCM Turbo's No Quibble replacement guarantee solves the problem. Under standard warranty terms, the customer would have to pay a second time for the replacement turbo. However, if the turbo was a service-exchange unit provided by SCM Turbo, a replacement (or free of charge repair) would be supplied under their No Quibble replacement guarantee. The replacement turbo is credited regardless of the outcome of the warranty inspection on the original unit. The guarantee applies to all SCM service-exchange turbos and repairs completed by SCM. This includes turbos fitted to the PSA 1.6HDi engine – well known for its common turbo failures.
This No Quibble guarantee means that motor factors can avoid those difficult and sometimes damaging disputes with their customers. It's important to note that the provision of a replacement turbo under the No Quibble replacement guarantee does not mean an acceptance of the warranty. A warranty inspection will still be carried out on the original unit, and the inspection report sent to the factor to pass on the garage customer. This report is important to help the garage identify the root issue that has caused the original turbo to fail.
SCM Turbo will repair or replace the remanufactured unit without further charge if the turbo fails within 12 months of invoicing. After the first 12 months, a further 12 months of standard warranty terms apply. See SCM website for full terms and conditions
The No Quibble Replacement Guarantee from SCM Turbo is part of our drive to make doing business with SCM as Easy as 1-2-3.
To trade with SCM Turbo you will need a trading account setup with us. Please email us and we will respond to your enquiry as soon as possible.
Why use SCM Turbo? Click to read more benefits of dealing with us